In 2020 we sold the original ShabbyChicHouse (a 1965 split-level) and moved into the newly built ShabbyChicHouse. The original ShabbyChicHouse had low roofs with minimal pitch, so it was pretty easy to string Christmas lights all over the place.
Our new house has dangerously high roofs, so we weren't sure how best to decorate in year one. We tried stringing up some of our old Christmas lights on the three pillars in the front of our house, but they just didn't look/hang right.
With that being the case, it gave us the perfect excuse to purchase all-new Christmas porch decor and really light up the neighborhood. Follow along as we share some of our favorite finds in this Christmas porch decor makeover!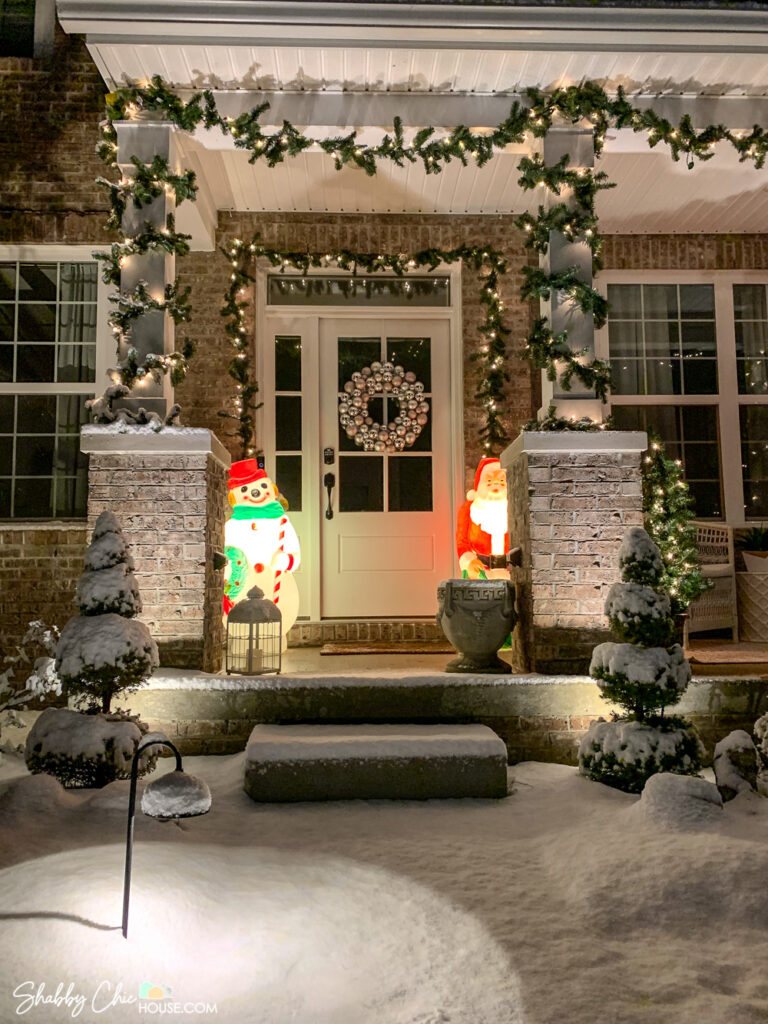 Some of our posts contain affiliate links. We often share links to the tools & products used in our home improvement projects and if you purchase one of these items using our link, we may earn a small commission (at no additional cost to you).
Pre-Lit Garland
In 2021, Garland is all the rage for decorating outdoor porches and this year we hopped on the Garland train. As I mentioned above, last year was our first year in our new house and we tried wrapping our three pillars with our existing string lights, but it just didn't look right. So this year we decided to give these pre-lit 18′ garland strands a try and they look absolutely amazing. The green garland gives additional depth, dimension and substance that's visible from the road, unlike our old string lights.
We originally ran across these garland strings by Home Accents on Amazon, but then found them for a fraction of the price at Home Depot. Wow! How is such a huge price difference possible?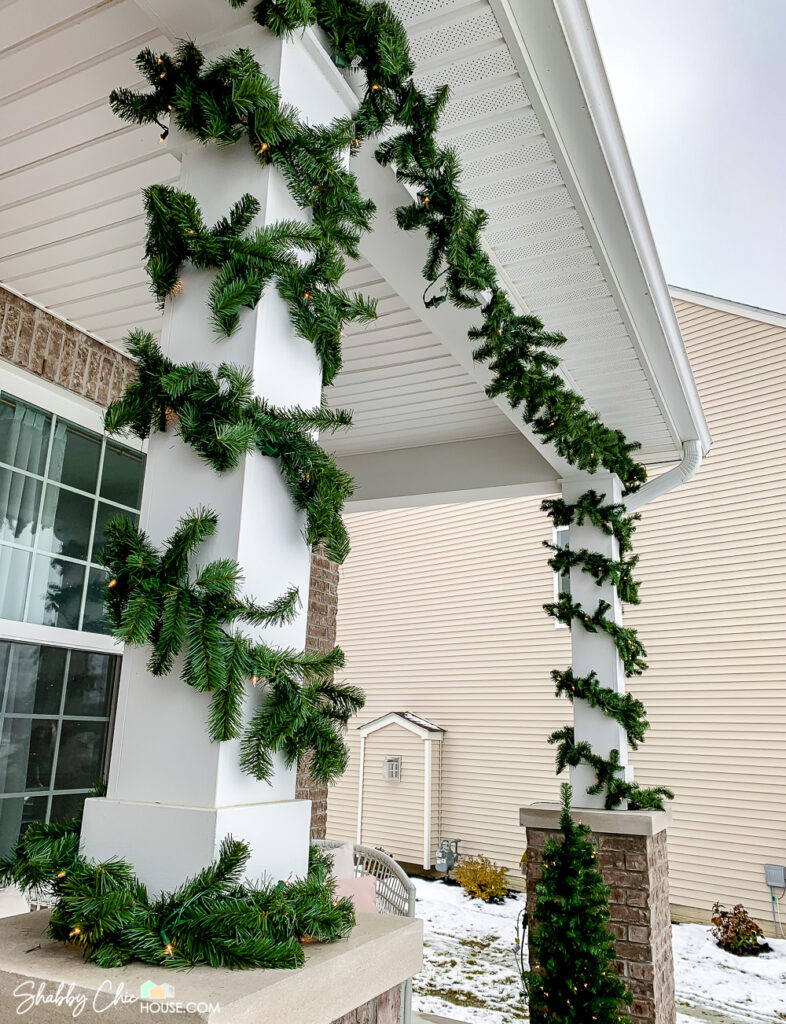 Vintage Blow Molds
We love vintage blow molds and over the years have picked up several for each holiday season. For Christmas, we have a Santa as well as a Frosty the Snowman blow mold. This year they reside on both sides of our front door.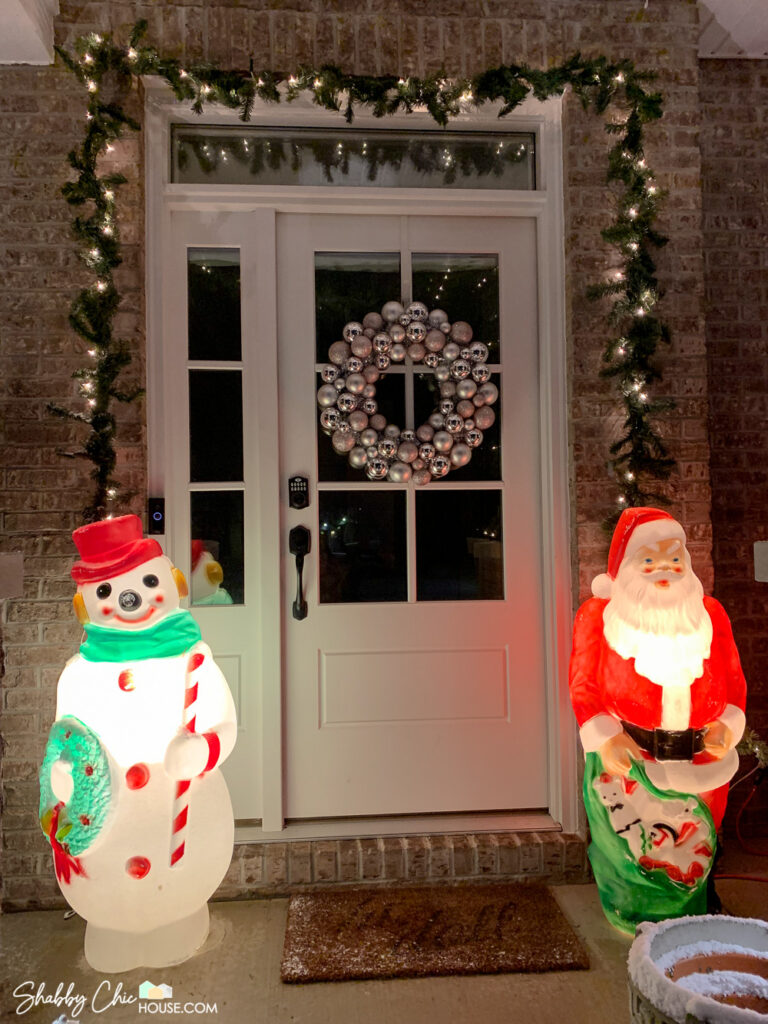 A Fun Ornament Wreath
I'd say there isn't a day our front door flies without a seasonal wreath of some sort. Over the years, we've made our own DIY ornament wreaths with foam and hot glue, but this year ran across this pretty awesome pink and silver ornament wreath we picked up from one of our favorite stores – Homegoods!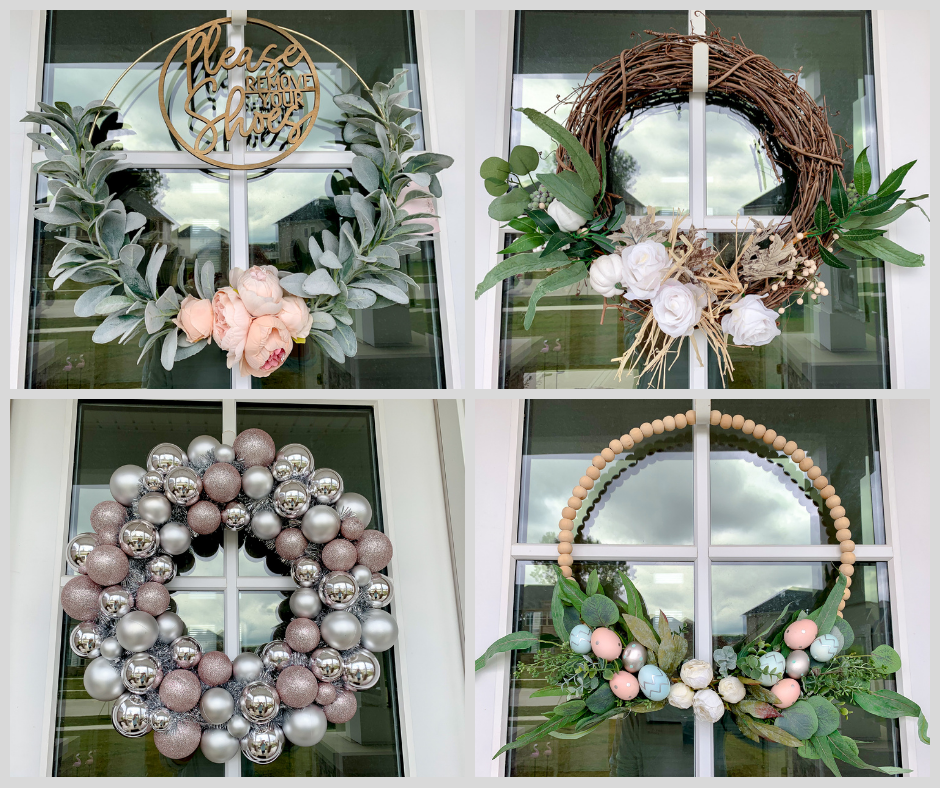 4′ Pre-Lit Christmas Trees
To complement our new garland, we also picked up two of these awesome pre-lit 4′ Christmas trees. They go perfect on both sides of a front door or in our case, next to each of our pillars.
Check out how they make it all come together in the photos below!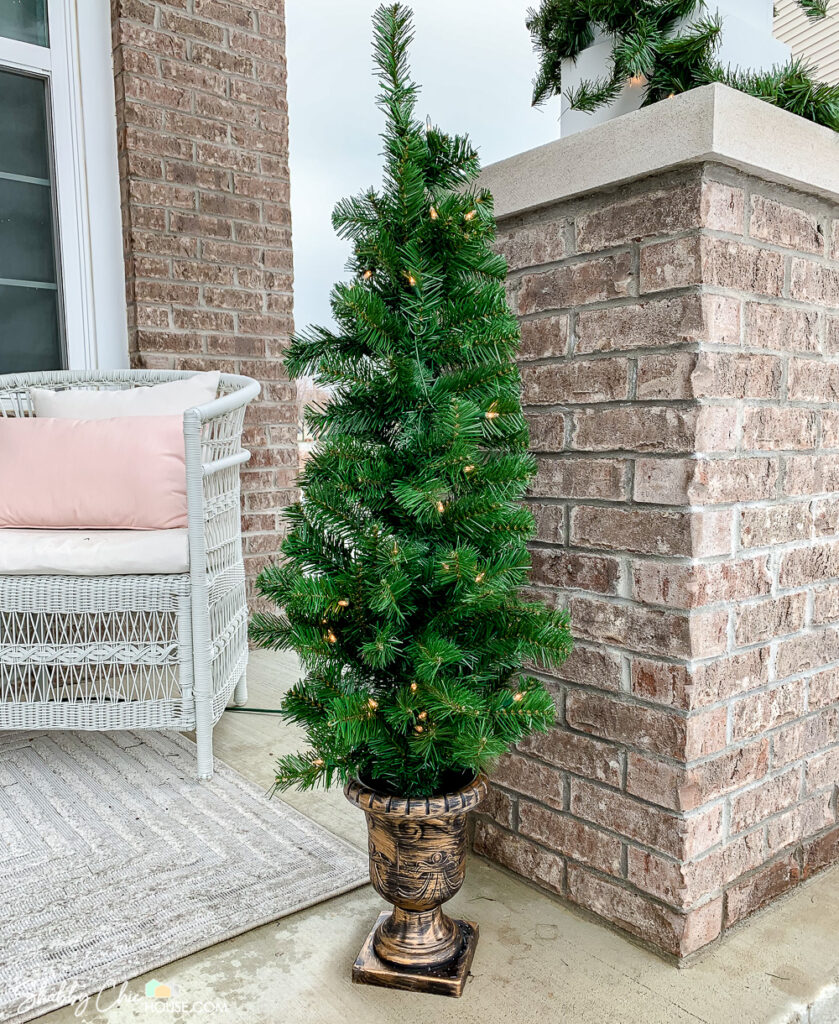 Ring Outdoor Smart Outlet
Our absolute favorite part of our Christmas porch decor makeover is the addition of a new Ring Outdoor Smart Outlet. The Ring Smart Outlet has two outlets/plugs that you can control either separately or together in one command from your phone.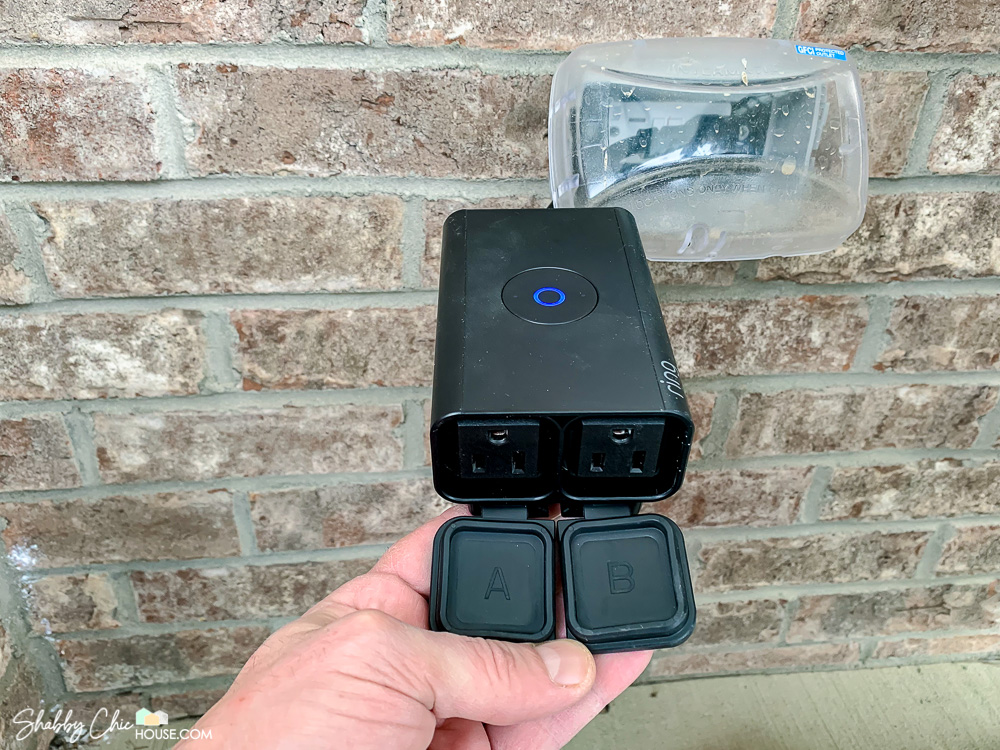 In addition, if you have an Alexa-enabled device you can give the command "Alexa, turn on the Christmas Lights".
The Ring Outdoor Smart Outlet also allows you to set schedules which is perfect for Christmas lights. Simply, go into the Ring app and set the time you want the lights to turn on and off.
One of my favorite things about Ring products is their ability to sync with other devices. After setting up my Ring Outdoor Smart Outlet I was able to link it to the motion detector in my Ring doorbell cam, Ring Solar Steplights as well as my Ring Outdoor Motion Sensor. If any of these devices detect motion after hours, my Christmas lights and 16+ landscape lights will ALL kick on at once.
Talk about scaring the crap out of a potential burglar or neighborhood pest.
We absolutely love cool and fun home automation and smart home devices. If you do too, then check our full DIY tutorial on How to Install Your Own Landscape Lights (w or w/o Ring integration) as well as our in-depth review of the Ring Protect Plans and our favorite Ring products.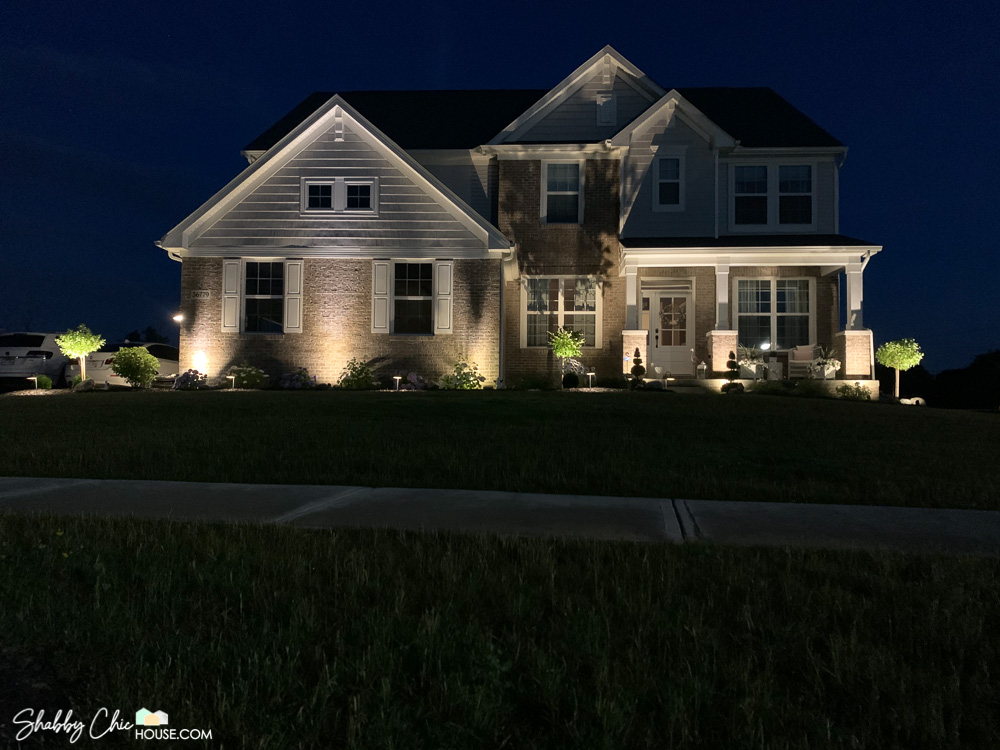 We hope you loved this post on our brand new Christmas porch decor makevoer as much as we loved putting it together. Also, if you haven't seen it yet – check our fun post on our favorite interior Christmas decor for 2021.
We'd love to hear your thoughts, questions or ideas in the comments section below.
Thanks for visiting!
– Mike from the ShabbyChicHouse